About the book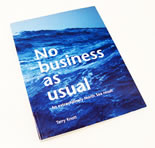 The much acclaimed book No Business As Usual remains in demand from businesses around the world, as they endeavour to improve their performance in delivering capital projects.
Although the book uses as its central example the construction of a large oil and gas platform in the North Sea's Andrew field, the innovative contracting methods employed are relevant to all industries, as evidenced by the many types of companies and organisations that have learned from No Business As Usual since it was first published in 1996.

Unique insights into a major business project
The book, written by leading oil industry writer
Terry Knott and which some readers have said is 'as good as a gripping novel', relates in detail the formation of a pioneering alliance between BP and seven contracting companies. Focused on a common business goal, the alliance stepped away from 'business as usual' to transform a difficult project into an outstanding success.
Corporate alignment came through the sharing of risks and rewards under a 'gainshare' agreement, where company profits were tied to the project's financial outcome. Working in a unified team, individuals were freed to question conventional solutions to unlock previously untapped potential for innovation and co-operation.
Such was the power of the alliance, the commercial success it delivered surpassed all anticipated levels of performance to set new benchmarks for the oil industry. The project came in six months early and £80 million under budget. A truly extraordinary business result.